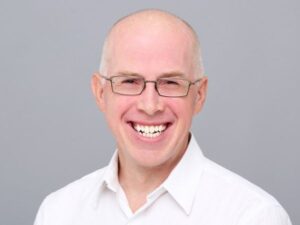 With a 25-year plus pedigree in applying advanced algorithms to Learning, Danish company Area9 Lyceum believes that we should encourage Learners to make mistakes and pursue misconceptions so that we can better duplicate real-world cognitive situations. Driving that idea both internally and externally for the company for the past four years is its Chief Learning Officer and Evangelist, Yorkshireman Nick Howe—the perfect next guest in our on-going 'Learning Scientist' thematic season here on 'Learning Is The New Working.' Why perfect? Because he's another Workplace Learning thinker (and doer) who also sees himself, as so many of you guys do, too, as "Fighting the good fight against outdated, misused, misleading and just plain wrong approaches to Teaching and Learning." So buckle up, as we get through quite a lot of deep theory in our hour's sit-down with Nick, covering everything from public sculpture to the intriguing work of pioneering Swedish psychologist K. Anders Ericsson (prior to his sad recent departure, on the firm's Advisory Board), and what it might mean for us in L&D going forward.
Listener warning; there's a little break at about 49 mins in due to connectivity issues on the day which we have hidden with a music cue, but please don't think that's the end of the episode! Along the way, we also rap about:
his personal journey to where he is today (Northern England to Southern Florida, from Chemistry to Learning personalization)
the Area9 Lyceum story (hint: there's a cool story between both parts of the name!) and its origin story in medical and computer specialists finding common ground in helping doctors stop making mistakes
what terms like 'confidence' and 'adaptive' really mean for him
'not a buzzword company'—the on-going relevance for academic research into what his company is trying to do
why giving access to 10,000 courses doesn't mean your job is over as a CLO
why he thinks so much about the centrality of motivation
Resources
Find out more about Nick's company here, and check him out on LinkedIn here
The Science of Training: A Decade of Progress
Nick recommends this academic paper as a great way to getup to speed with recent thinking on Learning Science
The Wikipedia entry for K Anders Ericsson, whose ideas were popularised by Malcolm Gladwell (though Enders had some problems with that, as this interview with him on the great EdSurge podcast explains!)
And finally, a great and readable intro into the psychology of expertise is Professor Ericsson's 2016 book, Peak: Secrets from the New Science of Expertise.
Enjoy!
Subscribe
Share this episode with your network

Tweet