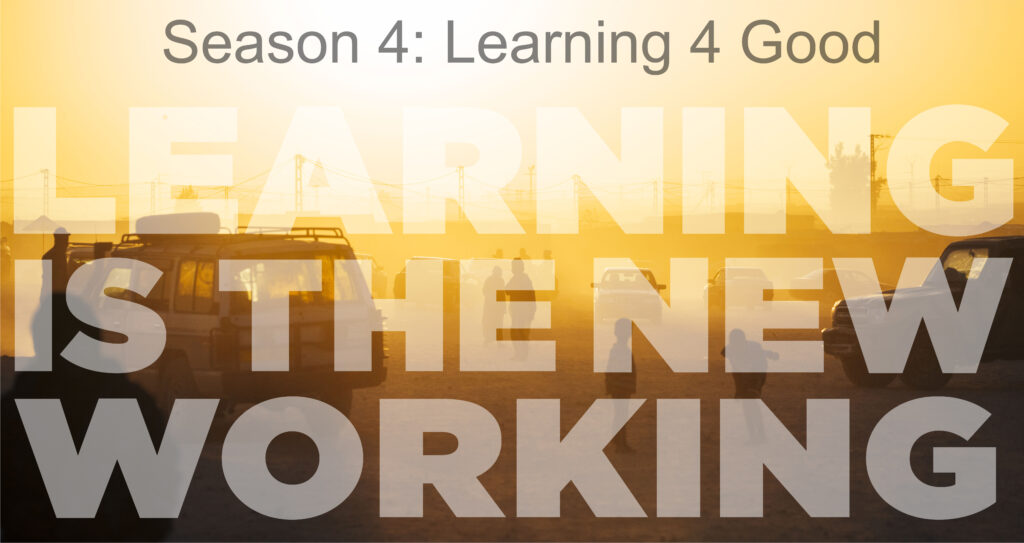 Season 4 Episode 11: With Joyce Tamale
Chris Pirie (00:05):
Welcome to a very special edition of learning is the new working. I'm helping. A friend of mine who's based in Uganda built her own podcast series and I thought I'd start by inviting her to learning is the new working and go through the process with her and teach her how to build their own podcast series, which I know is going to be amazing. So, if you're a regular listener, you'll know that this is part of season four, which we're doing something slightly different. We're exploring the workplace learning practices of the $200 billion international aid and development industry to see what we can learn about how learning helps build capacity, trust and engagement and changes lives around the world. Today's episode, we're going to Africa and I'm going to talk to my friend Joyce tamale. Joyce is a transformational leader in Uganda. She's a social investment expert and a social entrepreneur with over 20 years experience in managing and transforming organizations in both the private and the social sector.
Chris Pirie (01:16):
A primary topic in the conversation is social entrepreneurship and investing and how she and her organization working with low income populations to create sustainable social enterprises in East Africa and indeed across Africa. Joyce's a really passionate social entrepreneur and impact investor. She's a certified chartered accountant, a social marketer, strategic financial management expert agenda and women's empowerment specialist with wide resource mobilization experience. She is super passionate as you'll hear about delivering solutions to the vulnerable and underserved populations, especially women and youth across Africa and in her home country of Uganda. I think you'll enjoy meeting Joyce and I'm certainly enjoying helping her bootstrap around podcast series. So give a listen to my conversation with Joyce tamale. Okay. I'm Joyce Tamala. Welcome to learning is the new working. Thanks for your time and your insights on social entrepreneurship and the African perspective on international aid, and your own experience with capacity building. I'm really looking forward to our conversation.
Joyce Tamale (02:30):
Thank you very much. I look forward to
Chris Pirie (02:34):
Joyce. We always start with some quick questions to just, help our listeners understand you and your work practice and your career history. So are you ready to get going?
Joyce Tamale (02:46):
Yes, I am.
Chris Pirie (02:47):
Great. So we always start by asking where am I talking to you? Where in the world do you live and work and why do you live and work there?
Joyce Tamale (02:55):
I live in Uganda. Uganda is the of Africa and it's located in the Eastern part of Africa with a population of about 42 million people. I love living in Uganda because the weather is very nice. We have very good food and it's a beautiful country.
Chris Pirie (03:16):
I'd love to, I'd love to visit. And, tell me, what is your academic background? What did you study at university and does it have any bearing on the work that you do today?
Joyce Tamale (03:28):
Well, yes. apparently my study journey, I started at the Makerere university, which is one of the best universities in Africa. I did a bachelor of commerce and majored in accounting. And after that I did the association of certified chartered accountants of UK. So I'm a fellow of SCCA. And, I also did a master's in business administration, from, Mushu, Mathias university and also a master's in public health. So I chose the path of a social entrepreneurship after I worked with price Waterhouse Coopers as an accountant. And then I felt I needed to go into the social sector, take my skills and be able to, you know, make a difference in the social sector.
Chris Pirie (04:16):
So I guess a combination of finance and social services work. lots of, lots of education. am I right in thinking that you studied in Edinburgh? Did you study abroad outside of Africa?
Joyce Tamale (04:30):
I did a diploma post graduate diploma in social marketing.
Chris Pirie (04:35):
Oh great. Yeah, I can just imagine you would embrace the city that I know very, very well and it's cold and dark and lovely in its own way, but I think it must've been tough, a tough duty for you. so what is your job title, Joyce today and what do you do on a typical day for your work?
Joyce Tamale (04:57):
Well, my current work, I am the co-founder and CEO for the capital solutions, which is a social enterprise that is working to support social entrepreneurs in Africa to thrive. My day work is very unstructured. It begins very early in the morning and I work about 20 minutes away from my home, so I drive a bit to go there and I really work in a very unstructured way. I have several meetings and then I also have social entrepreneurs that I meet or mentorship and young people all within my incubator for capacity building.
Chris Pirie (05:37):
And this is a kind of a fairly recent, endeavor for you, I think setting up this organization. What were the steps on your career journey to get you where you are today?
Joyce Tamale (05:50):
Oh, well I had a very interesting career journey. As I say, they worked with price Waterhouse Coopers as an auditor, my initial three years of work. Then I moved to serve the children Denmark. I worked there for about three years as a program accountant and I moved to the women's movement in a regional organization working in eight countries within the sub Saharan Africa. And we were designing policies for women and gender, working on the Beijing platform for action, to spread it within the eight countries of Africa that is Rwanda, Kenya, Tanzania, Somalia, Southern Sudan, Uganda, and the other two if European, Eritrea. So that was a very think, you know, work where we, we used to create women empowerment and working closely to the grassroots women. When I finished that in the last 10 years, I've been involved, deeply involved in a very, very exciting role as a managing director with the Uganda health marketing group, a leading social marketing organization in Africa where we would be able to distribute a lot of, health products within the country and also had clinics at the crossroads and would offer malaria, HIV, family planning products of services within the communities.
Joyce Tamale (07:11):
So it was very exciting. And then beginning of 2019, I moved on into the social investment and social entrepreneurship work.
Chris Pirie (07:21):
What if, what a fascinating career, Joyce, and I think, I think you and I first met in that the last but one role that you were in when you were doing social marketing. And I definitely want to hear from you on, on, on how that goes down in Africa. Cause you, you really opened my eyes to, some aspects of how that's, that's how mature that is in the African continent. but before we do that, could you just give us a little bit of an outline, about your country, Uganda and all the region if you're, if you like, but, but what are the key demographics and what's the socioeconomic environment like? It's, it's in, it's in this Eastern Africa, right. but give, give us, sketch it out for us if you could.
Joyce Tamale (08:10):
giving a quick snapshot of the country. Uganda is a landlocked country and it's best within the Eastern region of Africa. And, looking at Africa, we, we are a large population of 1.2 billion people and this more than 75% are young below the age of 30 years. And we Africa and Uganda is one of the largest. we also have, a very large population. We are currently 42 million people and 75% ability [inaudible] and we are the source of the source of river Nile river. Nate is the second largest river in Africa and that's from Uganda. So we have Lake Victoria, which is the source of river Nile. So we have a beautiful country full of wildlife, gorillas, beautiful, fruits and people. So generally it's a beautiful country.
Chris Pirie (09:15):
Wow. It sounds very nice. And for my freezing cold office in Seattle here, it sounds very compelling. Joyce. so there's a couple of things that you and I, I think, wanted to talk about today on the podcast. the first was this notion of social entrepreneurship. When you've, you've decided to invest your career in, in this, in this, in this area. and perhaps you could just start by explaining the meaning of the phrase social entrepreneurship and, and what social investing is all about. I hear it a lot in my conversations with people in the aid and development, area, but it might not be familiar to everyone in, in, in our audience. So could you explain social entrepreneurship and investing to us?
Joyce Tamale (10:02):
Well, January 2020, we conducted a research on the status of social entrepreneurship in Uganda and we discovered this is really a new bus within the country and the continent. And so for us, we explain social entrepreneurship as companies or enterprises that do business for social good, largely spreading the wings to support the communities where you live, why do you do business? And so it could be a company limited by shares, but it's just basically doing business that is very positive to the community or it is a non profit organization that basically goes out to there to provide services but in a sustainable way. And that is what I call doing good way. You do well as an organization and for social investment. I look at investors who actually make an an, an option to do impact investments. So they look for organizations that are doing good for the community, but also do well and invest in them. So we in Africa we realized that grants cannot take us to the next level. And so we realized that we must be able to think about innovative ways of delivering services within our communities in a sustainable manner.
Chris Pirie (11:24):
I see. So just, just so I'm super clear, social entrepreneurship might be an organization that's primary focus is to do good in the world, let's say, futher the cause of, of health care or education in a given society, but does it also include companies that maybe have a primarily, business, purpose like transportation or, tourism and then also have part of their operations be, be focused on improving, social conditions?
Joyce Tamale (12:08):
Absolutely. Yes. if a company designs its mission, not necessarily to cheers for profits, but the whole agenda is to ensure that the profits that, you know, made by the company, a biscuit is going to allege scale, support the community where they are. So it could be a tourist company, but employing disadvantage to women with a disability as their biggest percentage of employees. And that is the target. And that's the mission. So that is a social enterprise because it has prioritized to deal with the disadvantaged population and be able to give them employment. So that would describe a social enterprise.
Chris Pirie (12:50):
I've got it. I've got it. And then, so what is the mission of your organization, capital solutions, what, what you recently founded the organization and how does it fit into the ecosystem of social entrepreneurship in, in, in this part of Africa?
Joyce Tamale (13:05):
Well, our mission is to inspire and transform Africans to become successful social entrepreneurs through improved access to finance and innovative community solutions for sustainable social impact.
Chris Pirie (13:23):
So this draws on your basically accounting background, your fundamental knowledge of how companies work and operate at a fiscal level. And also your passion for doing good in the world. What's the, what's the business model, Joyce? how do you, how do you fund this, this effort?
Joyce Tamale (13:43):
Well, we designed it to, three products I would call them products or mainly services. We have a capacity building, a section where we basically run master classes to support the social entrepreneurs in areas of marketing, building brands and generally supporting them in terms of governance as a way them also doing well so that they attract investors where they are businesses. The second is the social investment fund. When we did our research, we also realized that the young people and the women have difficulties accessing finance support from the commercial banks in. So we designed the social investment fund to support those kinds of people with, some small amounts of money that to enhance their businesses. The third, we have what we call the innovative solutions. We use digital platforms because we have a very young population that is interested in the ghetto. So we designed a social entrepreneurs forum online where young people interact and discuss business and discuss on number of incubations to support their ideas in growing into business.
Chris Pirie (14:55):
Interesting. So it's a combination of education and training, funding and access to capital. And then can you community building community, through technology really very, very modern, approach. I like it a lot. how do you decide what areas to focus on? I mean, social entrepreneurship, social investing, it could be a very, very broad category. how have you decided which areas to focus on and are you narrow or are you broaden your scope?
Joyce Tamale (15:29):
Well, we looked, it's really huge as you mentioned, Chris, but we decided to look at three sectors. One of the sectors is health because it's the largest challenge in the community. So we support social entrepreneurs in the health sector, education sector because of the literacy levels within Africa and agriculture because our economy basically depends on agriculture. So agriculture is one of those sectors that we support.
Chris Pirie (15:58):
Great. And how do you, how do you find the individuals that you want to invest in? Cause this is very much kind of a through, through people business isn't it?
Joyce Tamale (16:09):
Absolutely. Our cost, when we conducted research, it was a baseline to identify who are the social entrepreneurs out there. So we got our database, we now currently have 400 social entrepreneurs that we engage and we have a platform where they engage in every day with information. So those are the ones we visit and we are able to assess them when we go to their sites.
Chris Pirie (16:33):
So you're, you're almost like a venture capitalist for people doing this kind of work,
Joyce Tamale (16:40):
right? Yeah.
Chris Pirie (16:42):
What, what can you tell, could you, could you introduce us to what I mean to one of these people? Are they young people? Can you describe the kind of people that you find yourself working with?
Joyce Tamale (16:57):
Well, yes. We do have very many amazing young people with innovative ideas. One of them that really excited me is the one who is running a platform called UGA bus. UGA bus is a, bus ticketing platform where you can buy a bus ticket on lane wherever you want to go. And that has really reduced the stress of people going to the different bus parks to buy tickets there. So he is one of those young people mentored in, he's actually growing and scaling from Uganda to Eastern Africa.
Chris Pirie (17:33):
Amazing. So, it sounds like skills and training are an important part of your operational model and that's something that our audience is very, very interested in. how do you approach, building the capability and developing these, young entrepreneurs?
Joyce Tamale (17:57):
Well, it's amazing because everybody at any stage of business you deserve, you need to be mentored or coached in, in a way of scaling your business. And so we designed a four months, you know, a training curricul which is two days month. So in total you will have done eight days. So we bring on board practically out some of these seasoned entrepreneurs in the corporate sector to come and speak to the social entrepreneurs, the young social entrepreneurs telling them the generative going through and some of the lessons they've picked so that this one's kind of so LAN and don't make the same mistakes. So we make it very practical and we desire one day to make it online. But at the, at the moment it's face to face. We need to meet people on a monthly basis and walk through different cohorts.
Chris Pirie (18:53):
Right. I understand that you recently launched a report on the status of social entrepreneurship in Uganda. I think you've referred to this research that you've done. What were the key issues that you found, in your report?
Joyce Tamale (19:14):
Well, we came up with a number of issues and for me what was amazing is that we have about 55% of the, organizations that call themselves social entrepreneurs at mature level. But biscuit is, were pure NGOs with a grant seeking mindset. And so desiring to cross and create a sustainable, for the organization. For me, that was one of those that stood out. And, we also realize that, 54.7% of the social enterprises found it difficult to access financial support because, most of the banks were not trusting their work or asking for collateral and most of the young people do not have it. And, we also realize that there's no police on social entrepreneurship and, we are actually leading on that with government to ensure that we design a policy that will be able to favor the businesses in social sector.
Chris Pirie (20:20):
So that might be something around like taxation policy or public investments
Joyce Tamale (20:28):
Actually both of them. in terms of the taxation, which wasn't a local social entrepreneurs that we need to push, just like those who invest from abroad and come into the country, they have 10 year, 10 year holiday tax holiday in Uganda. But for this local social entrepreneurs, that was not factored in. So we are designing something that can really give a good environment for social entrepreneurs. But also we would like to encourage very many social investors to come into Ganda because the environment is good. However, the government needed more awareness about how this works. And so it is one of those areas that did not come out very well during the research.
Chris Pirie (21:11):
So building community, influencing government policy, convening 400 young, entrepreneurs, you're already off to a really, really strong start in your organization, I think for about a year old. what are your aspirations for the future and what's next for capital solutions?
Joyce Tamale (21:33):
Well, for me, because the young population is very vibrant and, the level of unemployment for the youth are 80% in. So that is very scaring. If we don't come up as social entrepreneurs to design innovative solutions that can employ young people, will work. There's a huge challenge. So I've looked at this as an opportunity to scale the promotion of social entrepreneurship so that many, many people come up and start social enterprises that will be able to double and support the social sustainable development goals and really, really move that to the next level. we also, looking at the future of this social investment fund and growing it to scale to support the startups in also those at scale level as a way of, you know, mitigating lack of finances that makes the young organizations to close before they are mature. And, using the ghetto as a way of communication using my social marketing skills to change behaviors of entrepreneurs to start thinking about impact and sustainability.
Chris Pirie (22:46):
I did a com had a conversation in one of my podcasts earlier in the season, Joyce, with a gentleman who runs a program across East Africa, called shoe jazz. And, it's really interesting, discussion and, and I learned there about the just unbelievably high unemployment rates for people leaving school. and, and what I mean by that is like moving into what, you know, traditional jobs with a steady paycheck and all those kinds of things, it seems like by far the majority of people in the order of 80 plus percent don't really get that opportunity. It does social entrepreneurship kind of help those people? Is it a, is it a way to employ people or engage people?
Joyce Tamale (23:35):
so they usually are because they are limited for more jobs by government and steady corporations. They are very, very limited in the best way to engage the young people who are vibrant, who think outside the box is to prepare them through social entrepreneurship. Either they would volunteer in those vibrant social enterprises or they could start their own, but as long as they are given capacity building and some startup, I believe that can solve the rate of unemployment that is really huge in our continent.
Chris Pirie (24:07):
Hmm. I don't know if you know, this is an aside, I don't know if you know Rob Burnett from this organization, but I want to introduce you guys because I think you're really working on similar challenges. can we talk a little bit about the work and technology landscape in, in your part of Africa? we already talked about, it looks like the work process is pretty bleak, from across the region in terms of the broad populace. But somebody who's graduating from university, somebody who's Mel middle-class and had the opportunities of a full education. what are the prospects look like for them?
Joyce Tamale (24:49):
Well, that's a very interesting question. the young people, for example in our country, every year we get 400,000. It's okay. they, they actively looking for what to do and what to engage them. And the prospect in terms of digital, everybody within the young people, they are knowledgeable about, internet. And so because of the challenge of limited internet that is where they wouldn't scale themselves to another label. But we do have agriculture as one of our core activity. And fortunately for the young people that's not yet passed for them, they, they would rather be in the urban setting where they, they do almost nothing or you know, very limited work than going to the farms or in the villages to do agriculture. But yet that is one of the areas we need to scale in terms of making it look interesting and exciting through digital marketing for agriculture products. So
Chris Pirie (25:55):
yeah, that's really interesting. So you, you basically the gravity is pulling young people to the cities and they want modern work and they want digital, digital lifestyles. And yet a lot of the opportunities are actually rural and agricultural. And, and ironically, if we could apply some of those digital techniques to agriculture, maybe that might have the most impact. That's an interesting, interesting, perspective. How is technology, how else is technology changing work life in, in, in your region? Joyce,
Joyce Tamale (26:35):
technology has made a tremendous change. It has, what I call disruption. It has caused disruption across the, you know, the core ecosystem allegedly because one can now afford work at home, which is something that we, we traditionally did not know. So right now if you have your internet in the house, you don't have to go through the traffic jam. You sit home and work and you're like, you're all in the same space. So it has reduced the cost of travel to from one place to the other in terms of transport. So we are all connected in one space. Secondly, it has increased the networking. the cost of marketing products used to be very expensive because we used to, we're using mass media right now. Quite a little businesses are moving into social media, which is very cheap. I mean you have your platform and you can reach millions of people. And so for me that is very exciting for any small business or any micro business, you can no longer struggle with advertising costs or marketing costs. So we are really connected on that.
Chris Pirie (27:40):
I know in your last role you use social media very extensively to help build knowledge and awareness of health issues. I think when we first met you really blew my mind about how sophisticated, the use and, consumption of, digital advertising and social media was in, in your region. D is this something that you want to exploit in as you move forward?
Joyce Tamale (28:08):
Absolutely. I'm already, I'm using a lot of social media in my current, company. I'm reaching a lot of, social entrepreneurs beyond Uganda because of social media because the knowledge that we have and share on all the platforms of social media reaches very thousand and thousands of people. So that is for me already exciting. And in terms of building the brand of the products that we offer, it has come at a cheaper cost because of social media. And so we had the youth television or radio goal reaching our social entrepreneurs.
Chris Pirie (28:44):
So, so it's been a game changer just to unlock the, the, the constraints of those traditional media companies in that respect. But give it, can you, for somebody who's never been to your, to your country, what is access to the internet look like for most people?
Joyce Tamale (29:05):
Well, it's still very poor in the urban setting. We are good. We to a large extent, we are, we, we are doing well but because we are 80% of the population in my country stays in the rural areas, that is still an area to explore. So the 20% are the educated, the urban city people. Everybody's on internet at large. But 80% of the population when there are areas and not yet there because even the smartphones not yet there. So it's still a myth for the villages. for some of the villages, especially with the illiterate, I mean the, you know, the less educated people and the older people. So we still have a lot of work to do, a lot of exploring that we can do with the internet and educating the people in the rural areas.
Chris Pirie (29:55):
So if I went to, compiler, if I'm in a city, I'm going to see most people will have a phone or access to a smartphone.
Joyce Tamale (30:05):
Well, in Uganda, internet sitting is to a large extent right now we've got a number of companies that have come in. Internet is still expensive to access and not very easy to access in the holla even in the cities. But I would say we've moved from, on a scale of zero to 10, we are somewhere at six. So that's a better way of putting it. But because our population, 80% of the people in Uganda stay in the rural setting. I would say. See the budget place system, but in area. And if we can get cheaper internet, we will do much better in terms of business than we are today.
Chris Pirie (30:47):
Interesting. can we switch, context a little bit here and I'd like to, you know, this conversation is part of one that we're having around the topic of international aid generally, and we've been educating ourselves on, on how it works and figuring out what we can learn, from, from the international aid agency. so I wonder if we could talk a little bit about your perspective on how international aid include including these efforts around, social enterprise working. So, what, so there's a couple of things. first of all, I wanted to know what efforts are going on in Uganda. The skill people are in the use of technology cause it clear, you know, as you've described it, it's a game changer. but also it seems that it's bifurcating the country a little bit where you've got the urban people who have access in the, in the, in the rural people who don't, or their efforts. and are you involved in any efforts to help people get skilled up in how to use an access to the internet and technology?
Joyce Tamale (31:57):
Well, government is, is doing some good job around that because we do have a ministry of information, communication and technology, but we also have another ministry which is in charge of technology and industry and say us something like that. So because of those two ministries, I can see this and, and thinking beyond, analog to digital by the government. So it will go a long way to change how we people perceive, internet or digital. But it's going to be a long term activity. We cannot say we are anywhere close to having it better. However, in terms of the private, are there quite a number of companies or initiatives that have come up to try and create a way on its own, on, you know, small little skill building courses that people are doing to enrich the understanding of how to use Dieguito? Within our education curricul we do have an information technology course, which is compulsory for all students or pupils and students in schools. So by the time they reach their elementary education, they, they have a bit of understanding how to use a computer and how to such internet.
Chris Pirie (33:13):
Interesting, interesting. and so in terms of private sector engagement in this, are you seeing big companies, I mean, do Microsoft and Google and, local internet service providers, telecom companies get involved in reskilling and upskilling efforts?
Joyce Tamale (33:35):
Well, I was impressed, about a month ago when I saw Microsoft coming down to Africa to launch some social entrepreneurship support in skills building and training, that for me caught my eyes and said, yes, that's what we've been waiting for. So I feel that is a big step and a big leap forward for us to access and utilize the internet to scale. And, some telecom companies have come up, but still internet is very, very expensive and unreliable. So we are not yet there, as I said earlier on. So there's still a lot of work to do in terms of ensuring that that data is accessed at the cheapest that anybody, even in the rural areas, getting data shouldn't be that expensive as we are experiencing right now.
Chris Pirie (34:22):
Yeah, that's interesting isn't it? There's kind of like, I think if the, the biggest barrier is just cost and if you can drive the cost down, then people will find ways to get skilled and get, find ways to get engaged and and, and get themselves and get themselves on board. Joyce, you and I have served together on the board of Humentum, which is a great organization and, focused on operational excellence for international aid organizations. and one of the missions there, one of the objectives is, is to help with this notion that the international aid industry needs to shift to have a more actual local, global South mindset. when it comes to international aid. Do you agree with this shift in approach and have you seen any progress in terms of how international aid shows up in your region? and, and helps build sustainable capacity.
Joyce Tamale (35:24):
I definitely agree with the mission. I love Humentum's agenda of operational excellence. And so, this is great. And so if they organizations managing aid in a more sustainable way – is going to build a capacity in the global South or in the, you know, in the local sense can be enhanced to be able to manage the age, in a more sustainable way. That is where the future is.
Why? Because, in Africa we have capacity, people are able to do the work. It's just because sometimes the opportunities don't meet them. So if Humentum can continue to scale and build the capacity in the systems and financial management and risk management across board program implementation, that's what we need. And so it will give us more value for money because the cost of managing projects will reduce and then we'll be able to have more service delivery to the communities that we are targeting. So I absolutely support that.
Chris Pirie
And do you think this social entrepreneurship, the organizations that you are seeing spring up in your region, are they part of this movement to empower people locally rather than just constantly fly in experts and resources from, from the North?
Joyce Tamale (36:45):
Exactly. Are we are targeting and you know, enabling African led African started social enterprises largely because they understand the context better. in the way the problems that, how the at this day and they understand the context better. We only need capacity building, you know, holding their hand and say you need to do better in terms of report rating in terms of impact measurement and so on and so forth. But they have the capacity and they just need to be supported because we cannot rely on expensive support that will always come in and maybe 50% of the ribbon going back, which is supposed to be able to deliver the community solutions that people are looking for.
Chris Pirie (37:35):
Yeah. Good. Good stuff. That's good. Good to hear that. That's kind of really landing and makes sense from your perspective. I have two questions left for you, Joyce. the first one you and I didn't talk about before, but it's, it, yesterday was, or two days ago was international women's day. And I know that women have been a lot of focus of your work and, both in the past and going forward, why is it important to focus on, on women and, and, what is, you know, how is, how is, how is the lot of women in East Africa these days? Is it improving, what's going on there?
Joyce Tamale (38:16):
Well, been in the women's movement for 20 years now and I chair the board of the forum of women in democracy, which is, a leading organization that supports and builds women in leadership in the public spaces and in the private spaces and also in Capital Solutions, targeted women. 80% of our work deals with women and it's very, very essential to put women in the forefront in business, in leadership and everything around what we do in the communities. Because women are the mothers. And so they understand the whole context of a family. And it begins from a family to be able to nurture a progressive community. So all the way from 1996 with the Beijing platforms for action where we were pushing the women agenda and the current SDG five, which is looking at gender equality or those indicators show that women, we are not yet in the spaces where we should be – women in the boardrooms, the numbers of very, very small.
And so if you're not in the boardrooms where policies are made, they will not be gender sensitive. And so they will always be biased and women will not be able to get to the bread where the, the businesses coming and going. So for me, priority being given to women is very, very essential because helping one woman will be able to touch about 10 other people because they, they give the focus with the family, the children and everything else. So I desire that to see more and more programs coming in, more gender sensitive and giving women an opportunity to sit on a table and also implement as leaders.
Chris Pirie (39:59):
Well, there's still more work to do on gender equality, in, in my part of the world as well and my part of business as well. Joyce. So there's work to be done there, but, I really commend you for that focus. and it's really interesting to see if, you know, the famous leapfrog that people talk about effect. you know, perhaps Africa needs to be where we have most of our progress around, women's equality and engagement in, in commerce in life.
Last question. many people who get involved in the international aid or in the learning space, you know, have a strong sense of mission. and I always asked my podcast guests why they chose to do this line of work. Was there something specifically that inspired you, a person or, an experience that you had, that, that led you to focus your professional life, where you have.
Joyce Tamale (41:03):
Yes. quite a number. And, I've worked with the local organizations, organizations that are Africa based for most of my career and I have seen the struggle of raising revenue or even sustaining that revenue. And I came to realize that if you do not design a business model that will be able to sustain itself and not only rely on grants, it's just a matter of time for you to close. And when you close, you really create a big gap in terms of loss of employment and depression amongst the staff that you work with. So this for me inspired me to say the model that will sustain the social sector will be that model that will not only design for aid but design beyond aidt so that it is an, a diversification of resources. And that way we can have more, more sustainable businesses that actually address the community challenges that we are facing on a daily basis.
Chris Pirie (42:04):
Joyce, I really want to thank you for your time today and you're sharing your perspective. it's really fascinating stuff. You're, you're such a, you have so many things going on. You have so much, so much energy. and I really wish you the best of luck with this initiative and, and, and all the work you do and, and best regards to you and your colleagues in Uganda.
Joyce Tamale (42:32):
Thank you very much, Chris, for the opportunity and the conversation.
Chris Pirie (42:36):
Hey, and one of the thing, we're going to get you as a podcaster, right? That's part of our mission here. and so I can't wait to hear your podcasts and I can imagine that you would, perhaps have conversations with some of these young people who were doing this amazing work and I can't wait to hear those conversations. Joyce.
Joyce Tamale (42:59):
Thank you, Chris. You'll be my mentor.
Chris Pirie (43:01):
Well, I'm going to help, I'm definitely going to help, before we just close. is there, is there somewhere where people can find more information and perhaps find ways that they can help you in your mission?
Joyce Tamale (43:14):
Yes, we do have a website where we can be reached or we can be read about, www.CapitolSolutionsUG.com.
Chris Pirie (43:33):
Got it. Got it. well Joyce, thank you so much and I wish you the best of luck and hopefully we can, you can come back and talk to me once you've had a few podcasts on the belt.
Joyce Tamale (43:45):
Thank you very much, Chris. Have a good day.
Chris Pirie (43:48):
Thanks for listening in to this episode of learning is the new working as always, it's customary at the end of podcasts to ask you to consider going to your podcast platform of choice, be it iTunes or Spotify or Spreaker or Google play. we, we don't discriminate where everywhere. but go to your platform of choice and give us a rating and give us some feedback. It helps other people find us and it helps broaden the conversation. If you have ideas about other guests or topics we could cover on the podcast, we're very open to hearing from you. You can go to www.learningfuturesgroup.com sign up for our newsletter or leave us a message and give us some feedback. Thanks again for listening to this podcast.