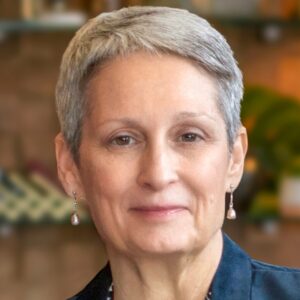 This week we dialog with a very well-known figure in L&D – and one who's definitely been applying Science to Learning, so much so that you'll need to prepare to have quite a few assumptions shaken! That's in the shape of Mary Slaughter, a human capital executive with 25+ years of global experience and strong C-suite expertise and who, since start of 2020 (and so, immediately pre-Pandemic), has been in post as Managing Director, People Advisory Services at E&Y. There, Mary's working in the Purpose, Culture, Leadership and Inclusion space, where she is tasked with helping clients better understand behavior change at scale.
When she sat down with me from her Atlanta base just before her move, though, she had been for a number of years with an organization everyone in our field serious about finding new ways of thinking about Workplace Learning needs to be aware of — the NeuroLeadership Institute (NLI), and which, like her current post, is also very much about using science, technology and data insights to help organizations. Mary and I talk mostly about her work at NLI in our 50-plus minutes, but as a long-standing L&D practitioner as everything from CLO to CHRO, she also naturally adds her own deep perspectives on many trends in our industry.
As such, she's a perfect guest for what we're trying to do in our on-going Season 3, 'The Learning Scientist,' where we are meeting engineers, business leaders, academics, and designers who are drawing on Science and design thinking to better understand the interface between Learning technology and neuroscience — so join us, as we find out about:
her personal journey from studying Psychology and Communications to Workplace Learning to 'a place with a good airport'
NLI, a place all about 'using science to make organizations more human' but also change behavior at scale across those organizations
the shrinking half-life of Knowledge
the many sins we've all inadvertently committed in L&D because we didn't know how the brain works, especially in things like Feedback, Capacity and the process of how we actually *learn*
how we have totally misunderstood why Evolution came up with what we call 'bias,' and how to work better with that if you want to do things like implement a D&I agenda
the need to be aware of the lure of 'neurobling'
the usefulness of the AGES (Attention, Generation, Emotion, Spacing) Learning model… and why the 'S' will make you wince if you've ever crammed too much training in one 'convenient' off-site
how much your brain is doing for you and to you, without asking
the danger of getting better at what you do — and the harm confident Leaders can cause!
And much more.
Resources
Connect with Mary here
Find out about NLI here
More on AGES
Episode Update
We asked Mary for a catch-up since we last spoke before we published this episode. She told us she's keeping pretty busy, being on a board of directors for a performing arts organization focused on virtual concerts that's creating audience connections and sustaining the organization financially, as well as working on a book with ATD on a brain-based approach to learning-needs analysis. Along with her good friend, Dr. Janet Ahn, she's also just written a new article which is posted on LinkedIn we hope you find interesting, Why does a crisis make us more human? — check it out.
Finally, she jokes that she's spending Lockdown, "Like everyone else, pretty much been at home with the exception of the grocery store," but that she and her family are going to the beach in two weeks to relax and for a change of scenery. Enjoy!
Share this episode with your network

Tweet