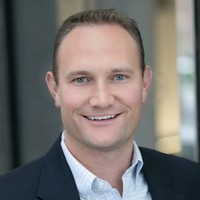 Season Sponsor
Get a transcript of this episode, and a special bonus debrief episode at the link below.
Details
Near the end of today's episode our guest tells us that, "My Purpose is to bring hope to every employee of Johnson & Johnson." We have no doubt at all he means it—and what makes this even more interesting is that he's working in an $85 billion enterprise that many see as being one of he very first American brands to publicly commit to Purpose. The company is, of course, Johnson & Johnson, a brand founded in 1886 that develops medical devices, pharmaceutical, and consumer packaged goods, and the individual we're speaking to about Purpose is its Global Head of Talent Development, Clinton Kofford.
Today, we're going to delve into what Clint means by his statement—as well as how Johnson & Johnson's Purpose statement, its famous Credo, feeds into what he and all of its other 135,000 team members do every day. As you may know the Credo, written in 1932, lays out how, among other things, it is "responsible to our employees who work with us throughout the world" and that managers must always strive to "provide an inclusive work environment where each person must be considered as an individual"—but just as importantly, "When we operate according to these principles, the stockholders should realize a fair return." Amazing stuff for 1932; still pretty cool—which is why we knew J&J had to be a big part of Season 7, where we're working with the smart people at RedThread Research to understand Purpose in modern American business… and why Clint is convinced the Credo's more than just a moral compass, but a recipe for business success. And we do, I think, but really through a great dialog with him, not from a line-by-line analysis of any Purpose statement.
A senior HR, talent, and leadership development professional with a strong track record of delivering high impact change initiatives, developing talent, and elevating executive capability across a variety of industries and business life-cycles, Clint discusses his career highlights, which include time at Nike and Mars, what led him to living in North Central New Jersey, as well as:
his day to day role leading of Johnson & Johnson's management and leadership development work
what the mechanism is for doing that at the company, the Human Performance Institute, and its roots in sports psychology, and how the Institute is now the new internal J&J 'brand'
Purpose and L&D and how new personalised career paths are starting to energise the team
how, as a Learning professional, he's doing what every Learning professional wants—harness the unique talents of everyone in the organisation to bring out the best
how he thinks Purpose the glue that holds Talent together—but how internal paradigms may need to shift around the status of non-full time employees first
and much more.
Resources
Clint is on LinkedIn here, his employer here and the organization he helps lead, The Human Performance Institute at Johnson & Johnson, is here
Read the Johnson & Johnson Credo in full
A discussion point that keeps coming up: the status Purpose of non-full time W2 team members. Clint recommends LinkedIn founder's Reid Hoffman et al's The Alliance: Managing Talent in the Networked Age as a good resource to help shape your thinking on this point
RedThread's Purpose work is here
And don't forget that the NovoEd-hosted Season 7 overall microsite www.novoed.com/purpose hosts all these episodes as well as much, much more—and that's where you can quickly get online registration for the final Q1 2021 webinar.
Season Sponsor
Share this episode with your network

Tweet