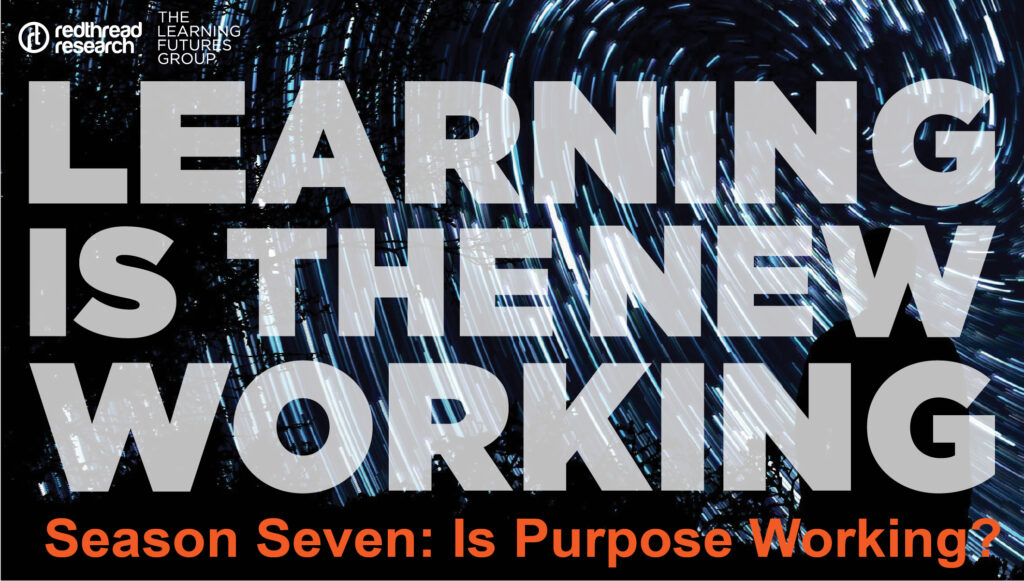 Subscribe
In this season we investigate the Talent Management implications of operating as a Purpose-Driven Organization. Over nine episodes we will look for insights into this timely issue via a special collaboration between Chris Pirie of The Learning Futures Group (LFG) and Stacia Garr and Dani Johnson of HR advisory group RedThread Research. The season will build on the RedThread research paper, The Purpose Driven Organization: HR's Opportunity During Crisis and Beyond. The season is sponsored by collaborative online learning provider NovoEd.
Join Us For The Live Purpose Season Webinar?
Register here to reserve your seat and the opportunity to share your insights, thoughts, questions, and experiences at a live Webinar where Dani, Stacia and Chris will discuss the season and their learnings. You will also get access to additional materials including free episode transcripts, exclusive episode debrief discussions, and articles .
Why Focus on Purpose?
The health, economic, and social crises of 2020 have perhaps accelerated a trend towards organizations seeking to act for the greater good of humanity. As a result, we've seen many organizations rise to the occasion — acting with a greater and broader purpose, serving many stakeholders, not just shareholders. In fact the trend towards stakeholder capitalism has a rich lineage.
We wanted to understand the phenomena of purposed-aligned organizations and specifically the implications for, and role of talent management teams and leaders. So we partnered with RedThread to host conversations with nine thinkers, writers and practitioners from companies such as Johnson & Johnson, Sanofi, Medtronic, and S&P Global to gain insights and build on the research around these questions;
What is purpose, and how does it differ from other related terms (e.g., mission, vision)?
What is HR's role in creating a purpose-driven organization? What can it control and influence?
What does the employee experience look like at a purpose-driven organization?
What are some of the purpose-driven practices we've seen in response to significant current events?
Episode One With Stacia Garr Details and Resources
Episode 2 With Aaron Hurst Details and Resources
Episode 3 With Dr Rachel Fichter Details and Resources
Episode 4 With Jeff Orlando Details and Resources
Episode 5 With Dan Pontefract Details and Resources
Episode 6 With Clint Kofford Details and Resources
Episode 7 With Celia Berenguer Details and Resources
Episode 8 With Deborah Quazzo Details and Resources
Episode 9 With Suzanne Gibbs Howard Details and Resources
Episode 10 With EY's Goldhamer and Stier Details and Resources
Episode 11 The NovoEd Season Wrap Panel Discussion Details and Resources
Season Sponsor